Slavegirl Emmas electro pain and tears at The Pain Files
Submissive Emma is a 24year old girl from England with a deep lust for SADO, humiliation and rough sex. Emma is an incredibly charming submissive with a wild desire to explore even the weirdest and scariest corners of SADOMASOCHISM. Emmas biggest turnon is intense humiliation play whilst her biggest fear is electro pain. Even the thought of electro makes her shiver. None surprisingly she is given a good mixture of the humiliation pleasures and painful fears in the SADO sessions she has to endure. Emma is a highly painslave. She training to enter the world as a lifestyle masochist and enjoying every step of the way through pleasure and pain
Freaky english sadomaso and boob torments of blonde fetish slavegirl in suction cupped nipple torture and facially clamped mortification of tounge tied up Wynter. The slavish slave slut has her jugs covered in painfully pressuring suction cups and her mouth clamped with medical pliers before having her fanny given a savage workover and her tongue clover clamped. Severe painsluts bizarre punishment and facial sado maso dehumanised of blonde england pain slut in torments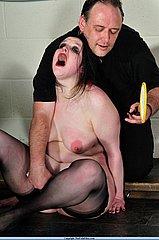 View the full length extreme SADO movie at: The Pain Files
Till this point we have taken on a thorough training program involving obedience training, severe punishments and humiliation. In the following three displays of her SADO sessions you will get a good peek behind the curtains of her severe training that has taken her through stern breast bondage, severe electro pain, cruel spanking and outragious humiliation

Slavegirl Emma screaming in pain at: The Pain Files
To download and watch the full length highres SM movies: The Pain Files - Intense BDSM and Pain
Innocent latino submissive whipped and clamped on her sore pussy and dildo drilled to orgasm
Watch all of the Latino Slavegirls Torments
---
Submissive Pixie Tormented
Submissive Pixie tormented at The Pain Files
Masochist Pixie is ordered to lift hardcore weights and hold them steady at arms length. Obviously, the english cutie struggles with the simple task given by her master and requires further encouragements. Painslut Pixies pussy is metal clamped and she is whipped mercilessly right up between her legs with a biting flogger.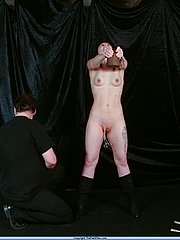 To see the full length highres movie of sub Pixie tormented: Visit The Pain Files
Masochist Pixie bravely tries to keep lifting the hardcore metal weights whilst the whip bites directly up into her openly exposed pussy. The BDSM painslave screams and cries but there is no relief from her punishments.
To watch all of sub Pixie:
Visit The Pain Files
Real Slavegirls, Real Pain, Real Tears
Visit The Pain Files
---
KumiMonsters Confined Suspension
KumiMonsters Enslaved Suspension
The Bondage Supermodel Struggling with the Ropes

KumiMonsters Enchained Suspension. The Bondage Supermodel is struggling with the rope,
while lifted into the air by the biting oriental rope bondage
Watch all of KumiMonsters bondage suspension at The Pain Files
---
Submissive Chaos in Outdoor BDSM
Painslave Chaos in Outdoor BDSM at The Pain Files
Naked in Strong Rain and Punished to Tears
Tied and Whipped out in the fields
All of Masochist Chaos in Outdoor SADO Maso Punishment at The Pain Files
---
Lesbian Submissive in Pain
Submissive Pixie punished by Dominiatrix Nimue at The Pain Files
Lesbian masochist in punishment and bdsm torments by her vicious dominiatrix
domina and stern tormentor in the livingroom.

To see the full length highres movie of painslut Pixie tormented by mistress Nimue: Visit The Pain Files
Nineteen year old mysterious british sub Pixie reports for training with Domina Nimue and the dom.
She is face slapped and thoroughly dominated by her cruel domina femdom then bound up spreadeagle
and whipped by both dominants. The cute masochist screams in pain as the whip caresses her body.
To watch all of painslave Pixie:
Visit The Pain Files
Real Slavegirls, Real Pain, Real Tears
Visit The Pain Files
---